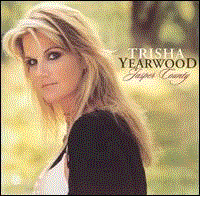 Songs Leslie Wrote
"When I came to town," she recalls, "it was on a Saturday, and on Sunday morning I went to church and kind of fell in with the whole Judds bunch; they all went to that same church. Don Potter, who had been working with The Judds, befriended me and became interested in my songs. I remember sitting in the studio one day crying, and I said, 'I don't want to be a songwriter.' Don asked me why, and I said, 'because if I'm a songwriter, they won't let me be an artist.' He said, 'Girl, first of all, who is 'they?' And and second of all, two words for you: Paul Overstreet.' At the time, Paul was a big artist as well as a songwriter."
"When I realized that I had a gift but I didn't have the craftsmanship for songwriting yet," she recalls, "I started going out to the Bluebird Cafe and places like that to listen to great writers. When I wandered in and heard Larry Cordle and Carl Jackson and Jim Rushing and Jerry Salley in the round one night, I felt like I'd been hit by a Peterbilt truck. From then on, I went every time I could hear them. Then, I started asking them to write with me one by one, and they were all busy and didn't want to write with some kid they didn't know or whatever."
"Larry called me out of the blue one day and said, 'I'm Larry Cordle, and I've heard a couple of songs that you wrote, and I wonder if you want to get together.' And we've been fast friends ever since. Since then, I've gone on to write with all those guys, and I love them dearly, but if it hadn't have been for Larry, I'm not sure what would have become of me."
~ Leslie Satcher quotes from an article by Jon Weisberger
Here are just a few of the "cuts" Leslie wrote. This is not a complete list, but we'll add more as we can....
Title
Artist
Album
A Man With 18 Wheels
Lee Ann Womack
Original Soundtrack Black Dog
Various Artists
Lee Ann Womack
Original Soundtrack Black Dog
Nev Nicholls Presents Truckin Towards
Amy Jane
James Bonamy
What I Live to Do
A Working Man's Wage
Trace Adkins
More
After All
Jill King
Jillbilly
Ain't It Strange How Things Turn Around
Perfect Stranger
The Hits
Another Day
Andrea Zonn
Love Goes On
Between Midnight and Tomorrow
Lorrie Morgan
My Heart
Big Time
Lorrie Morgan & Sammy Kershaw
I Finally Found Someone
Blue Dress
Shawn King
In My Own Backyard
Cadillac Tears
Kevin Denney
Kevin Denney
Call the Family Together
Susie Luchsinger
Come as You Are
Chariot
Gretchen Wilson
Here for the Party
Cowboy Days
Terri Clark
Life Goes On
Eight Crazy Hours (In the Story of Love)
Shelly Fairchild
Ride
Elvis in the Airport
Neal McCoy
The Luckiest Man in the World
Every Time It Rains
Pinmonkey
Pinmonkey
Everything But the Words
Patty Loveless
Jason Allen
Dreamin' My Dreams
Wouldn't It Be Nice
Face to Face
Carroll Arthur
Views from the Heart
Fine Art of Holding a Woman
Mindy McCready
If I Don't Stay the Night
From Love to Love
The Oak Ridge Boys
Christmas Cookies
From Your Knees
John Conlee
Matt King
Classics
Hard Country
Heartaches and Honky Tonks
Keith Harling
Bring It On
He'd Never Seen Julie Cry
Jo Dee Messina
Karaoke
Karaoke
Jo Dee Messina
Country Picks Jun. 1997, Vol. 4
Female Country Hits, Vol. 116
Her
Chely Wright
Never Love You Enough
High Tone Woman
George Strait
Somewhere Down in Texas
High Weeds and Rust
Bobby Osborne
Where I Come From
Homecoming Day
Carly Goodwin
Carly Goodwin
Honky Tonk Song
Terri Clark
Life Goes On
I Can Sleep When I'm Dead
John & Audrey Wiggins
The Dream
I Never Knew I Could Feel This Way
Clay Blaker
Jennifer Weatherly
Welcome to the Wasteland
In the Name of Love
Jennifer Weatherly Live
I Said a Prayer
Pam Tillis

Various Artists

All American Country
Every Time
Superstar Country Hits
I Sail
Shawn King
In My Own Backyard
I Took the Torch Out of His Old Flame
Linda Davis
I'm Yours
I'd Be Afraid of Losing You
Aaron Tippin
People Like Us
It's Alright
Trisha Yearwood
Jasper County
It's Hard to Be Me
Joe Diffie
Twice Upon a Time
It's My Job to Fall
Rebecca Lynn Howard
Forgive
I've Got a Feeling
Mindy McCready
I'm Not So Tough
Jesus & Bartenders
Sonny Burgess
Rebecca Lynn Howard
Stronger
Forgive
Little Things
Vince Gill
Let's Make Sure We Kiss Goodbye
Love Revival
Reba McEntire
Various Artists
Room to Breathe
Honky Tonk Tribute to Reba McEntire
Lovers
The Kinleys
II
Make Memories With Me
Lee Ann Womack
Lee Ann Womack
Mission of Love
Travis Tritt
No More Looking over My Shoulder
My Heart
Lorrie Morgan
My Heart
Never Underestimate a Bored Housewife
Melodie Crittenden
Melodie Crittenden
Nobody Hops a Train Anymore
Melonie Cannon
Melonie Cannon
Oklahoma Dust
The Notorious Cherry Bombs
The Notorious Cherry Bombs
Old Hands
The Whites
A Lifetime in the Making
Old Southern Porches
Dale Ann Bradley
Old Southern Porches
Old Time Fiddle
Vince Gill
Next Big Thing
Once in Every Life
Aselin Debison
Sweet Is the Melody
Once You've Heard the Truth
Randy Travis
A Man Ain't Made of Stone
One More Breath
Joe Diffie
Twice Upon a Time
Peace
The Isaacs
Chalee Tennison
Heroes
Parading in the Rain
Pistol
Trisha Yearwood
Jasper County
Politically Uncorrect
Gretchen Wilson
All Jacked Up
Real Bad Mood
Marie Sisters
Marie Sisters
River of You
Trisha Yearwood
Jasper County
Roses
Reba McEntire
So Good Together
She Wasn't Good Enough for Him
Reba McEntire
So Good Together
Shiver of Lonesome
Danni Leigh
A Shot of Whiskey and a Prayer
Smoky Lonesome
Jeannie Kendall
Jeannie Kendall
Sorrowful Angels
Patty Loveless
Mountain Soul
Take It Back
Derailers
Genuine
The Fire
Mindy McCready
Chely Wright
Mindy McCready
Single White Female
The Right Hand of Fellowship
Doyle Lawson & Quicksilver
Just Over in Heaven
There's Only One
Sara Evans
Local Exchange
Susie Luchsinger
No Place That Far
Because He Lives
Raised on Faith
These Things I Want
Grandstaff
Jerry Burkhart
Circles
Cryin' Country
Two Hearts
Vince Gill
Next Big Thing
Unopened
Sara Evans
Three Chords & The Truth
Until Then
Carly Goodwin
Carly Goodwin
What Would Waylon Do
Joe Diffie
Tougher Than Nails
What Say
George Strait
It Just Comes Natural
What's On My Mind
Blake Shelton
Jim Lauderdale
Gary Allen
Various Artists
Blake Shelton's Barn & Grill
The Other Sessions
.
Texas Fed, Texas Bred: Redefining Country
When Being Who You Are Is Not Enough
Patty Loveless
Maura O'Connell
Dreamin' My Dreams
Don't I Know
When God-Fearin' Women Get the Blues
Martina McBride
Greatest Hits
When the Wheels Are Coming Off
Lee Ann Womack
Some Things I Know
When the Wrong One Loves You Right
Wade Hayes
When the Wrong One Loves You Right
When You're Not Looking Back
Gene Watson
From the Heart
Whiskey on the Wound
Pam Tillis
Every Time
Why Do I Still Want You
Chely Wright
Single White Female
You and You Alone
Randy Travis
You and You Alone
You Put the Lonely on Me
Pam Tillis
Every Time
You Remain
Willie Nelson
Andrea Zonn
The Great Divide
Love Goes On
You Still Shake Me
Deana Carter
Everything's Gonna Be Alright
The Deana Carter Collection
See the videos of a few of Leslie's songs......
NEW! "I Met Jesus In A Bar" - Jim Lauderdale
see the VIDEO!
"Jesus & Bartenders" - Sonny Burgess
see the VIDEO!
"Politically Uncorrect" - Gretchen Wilson
see the VIDEO!
"The Watch" - Scotty Emerick
see the VIDEO!
"I Said A Prayer" - Pam Tillis
see the VIDEO!
"When God-Fearin' Women Get The Blues" - Martina McBride
see the VIDEO!
"I Ain't Your Mama" - Amber Dotson
see the VIDEO!
P.S.- Leslie has also worked on many other projects for artists you may know. Check out her miscellaneous credits HERE!